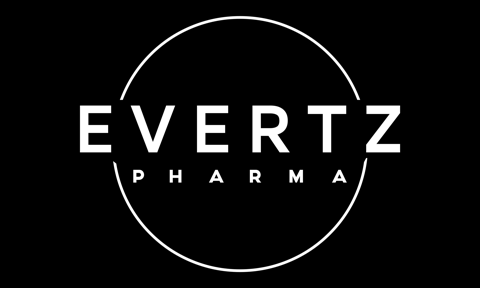 As one of the most innovative pharmaceutical companies in Germany, we have made it our business to develop products based on natural ingredients. Apart from classical medicine, we start and concentrate on treating the causes and not the symptoms. More at Evertz-Pharma.de
Headquarter
Imprint
Information according to § 5 TMG:
(No return acceptance)
Evertz Pharma GmbH
Europa-Allee 2 (24.08)
60327 Frankfurt am Main
GERMANY
Please return to:
EVERTZ-Pharma
receiving department
YOUR ORDER NUMBER
757 Kenrick dr Suite 124
Houston, TX
77060Represented by: GmbH: represented by the Managing director Dominik Evertz
Contact
E-Mail: service[at]evertz-pharma.com

Telefon: +49 69 348736890

Register entry
Registration in the commercial register

Register court: District court Frankfurt am Main, GERMANY

Register number: HRB 109466

Sales tax identification number according to §27 a sales tax law DE313514432

Responsible for the content according to § 55 Abs. 2 RStV
Dominik Evertz, Europa-Allee 2 (24.08), 60327 Frankfurt am Main
Dispute settlement
The European Commission provides a platform for online dispute resolution (OS): https://ec.europa.eu/consumers/odr. You can find our email address in the legal notice above. We are neither willing nor obliged to participate in dispute settlement proceedings before a consumer arbitration board.
Liability for content
As a service provider, we are responsible for our own content on these pages in accordance with general law in accordance with Section 7 (1) TMG. According to §§ 8 to 10 TMG, as a service provider, we are not obliged to monitor transmitted or stored third-party information or to investigate circumstances that indicate illegal activity. Obligations to remove or block the use of information according to general laws remain unaffected. Liability in this regard is only possible from the point in time at which we become aware of a specific legal violation. As soon as we become aware of such legal violations, we will remove this content immediately.
Liability for links
Our offer contains links to external third-party websites over whose content we have no influence. Therefore, we cannot accept any liability for this third-party content. The respective provider or operator of the pages is always responsible for the content of the linked pages. The linked pages were checked for possible legal violations at the time they were linked. Unlawful content was not recognizable at the time of linking. However, permanent monitoring of the content of the linked pages is unreasonable without concrete evidence of a violation of the law. As soon as we become aware of legal violations, we will remove such links immediately.
Copyright
The content and works on these pages created by the website operator are subject to German copyright law. Duplication, processing, distribution and any kind of exploitation outside the limits of copyright law require the written consent of the respective author or creator. Downloads and copies of this website are only permitted for private, non-commercial use. Insofar as the content on this site was not created by the operator, the copyrights of third parties are observed. In particular contents of third parties are marked as such. If you should nevertheless become aware of a copyright infringement, we would ask you to notify us accordingly. As soon as we become aware of legal violations, we will remove such content immediately.
Legal notice
This website was created with the utmost care. Nevertheless, no guarantee can be given for the correctness and accuracy of the information contained therein. Any liability for damages that arise directly or indirectly from the use of this website is excluded, unless they are based on intent or gross negligence. Our information on data protection contains further explanations.
Imagery
@Shutterstock: © Alex Brylov © CAPJAH © Jacob Lund © Peshkova © Pressmaster © SFIO CRACHO © Sofia Zhuravetc © Tiratus phaesuwan © veralub © g-stockstudio © nobeastsofierce © Rost9 © Yellowj